The only thing more common during the holiday season than a family get together is snowy, rainy and slushy weather . The often miserable weather makes homeowners less likely to move from one home to another. On the flip side, choosing the off-season to schedule the family move creates opportunities for homeowners to earn a healthy discount on their moving costs. There are equal pros and cons to consider on both sides, and your personal tolerance for lousy weather will have a big impact on whether or not the idea of moving during holiday season is a viable strategy for your family.
If you do decide that the cost break is worth the extra effort, there are tons of ways to make moving easy, even in spite of the winterly atmosphere. The following tips and strategies will help you to protect your belongings, stay healthy and save some money this holiday season.
"There are tons of ways to make moving easy despite the winterly atmosphere."
Start your process early to avoid disappointment
Even if you have help, the moving process always takes a bit longer than you might have initially anticipated. Considering that the end of December and beginning of January are packed with holiday events, putting off your move to the last minute might not be the most prudent call you can make. After all, youngest members of the family will be less understanding if the logistics of moving cut their holiday vacation short. That being said, it makes sense to have as much of the heavy lifting, time-consuming labeling and mover scheduling performed in the first two weeks of the month. This approach will make it easier to keep moving day from turning into moving week.
Put off your move for an extra payout
Though completing as much of the planning process as quickly as possible is a smart idea, there's no reason your moving day can't be scheduled just after the season's biggest holiday celebrations. Angie's List recommended that homeowners make their move after December 25th. The week directly preceding New Year's Eve includes some of the least busy days of the year for movers. Scheduling your moving day during this window is sure to help keep your costs under control.
Take a tactical approach to decorations
It's a lot of fun to go all out when it comes to holiday decorating. However, taking a bit of extra care in deciding when and what to hang on your home's exterior will serve you well if you plan on moving during the holiday season. After all, who wants to put in all that effort twice in the same year? If you'd like to enjoy one last hurrah in your neighborhood, consider investing in disposable decorations that go down in a hurry. This approach makes it easier to enjoy your old home to the fullest on your way out the door.
It makes just as much sense to hold off on getting too elaborate when decorating prior to the move. Setting up your fanciest decorations in your new neighborhood might just earn you a few new friends when people come to marvel at the cul-de-sac's latest spectacle. There's no right or wrong way to decorate during your holiday move, but making a few timely decisions about when to put up your lights could save you hours of extra work.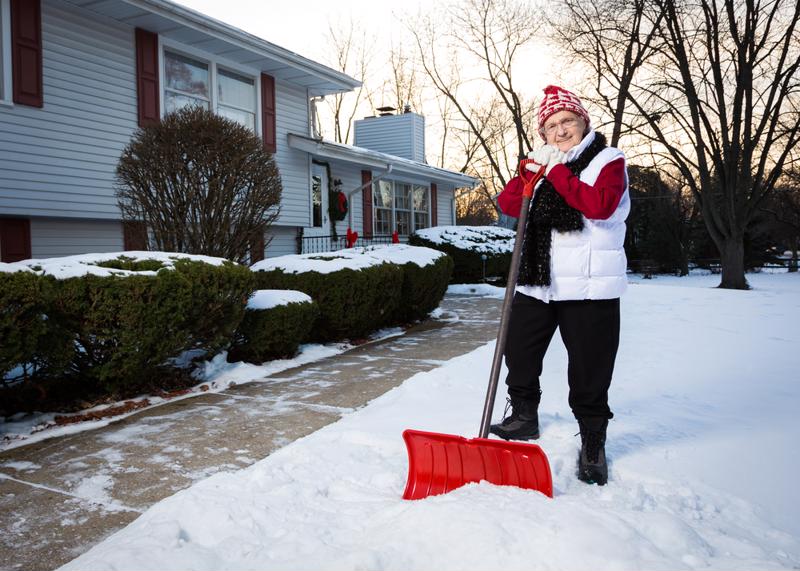 Wrap up furniture for DIY chores
Moving during the holidays is all about keeping your costs down. One way to maximize that strategy is to perform a bit of your own moving. By carrying smaller pieces of furniture, like items that can easily fit into the backseat, from your old house to your new house, you eliminate items that movers would have to ship and reduce your overall costs.
Heavy precipitation is common during winter, whether it be rain or sleet or snow, which means you'll have to do a bit of extra problem solving to jumpstart your move. Thankfully, as the San Francisco Chronicle pointed out, painter's tape and plastic wrap are easy to acquire. These items make protecting your furniture a considerably simpler endeavor.
Avoid injury and sickness with the right gear
Wearing the close-toed shoes and long sleeves is already a must when moving to protect yourself from accidents and other causes of bodily harm. Wearing the right outfit is even more important during the winter, when low temperatures can pose a serious threat to those without the proper attire. You may need to make a few investments, such as purchasing gloves with removable finger tips, to ensure that you can still lift and move heavy objects while keeping warm. Coming down with a cold during or after your move is the last way you want to spend your holiday, so bundle up while on the go.